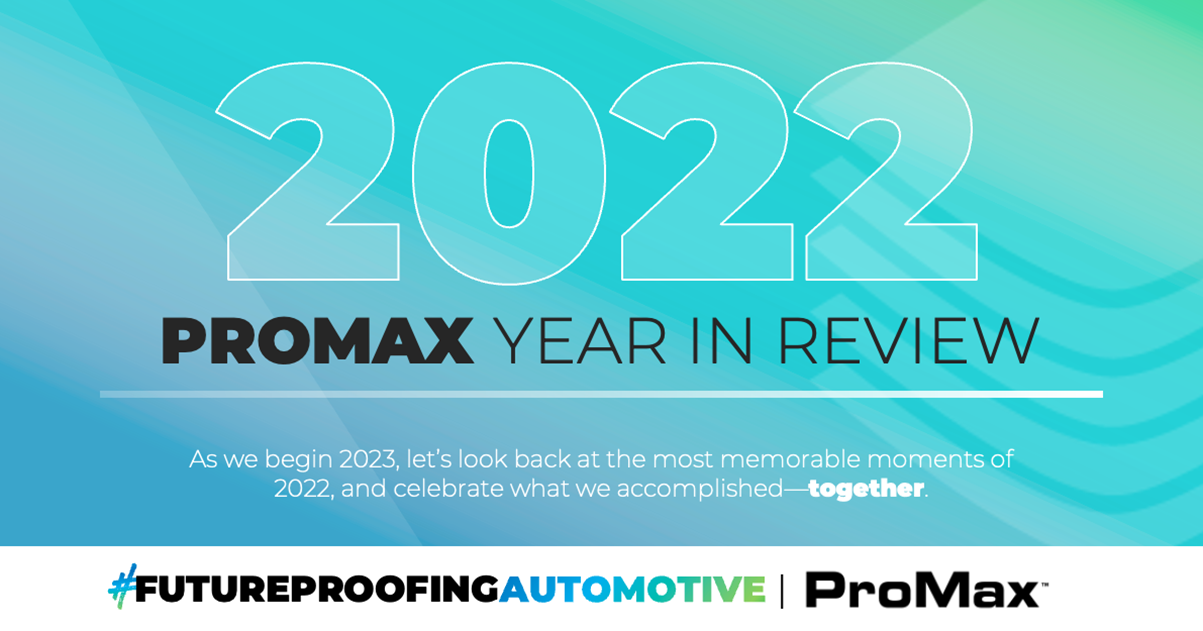 2022 was a big year for ProMax, with some big changes in both technology and personnel. As many of you know, a new executive group based in KC merged with the existing team based in Iowa with the goal of creating rapid growth, expansion, and innovation. A year later we have a lot to reflect on, and a lot to look forward to. Here's our review of the last 12 months with an eye toward what's next:
A Blended Family, United:
I think any of you who have experienced blending families together would agree that it can come with growing pains, and in business it is no different.
Fortunately, in our case, we had a well-established team at ProMax with a tremendous track record for providing incredible value to dealers with great products and passionate support. The numbers speak for themselves with countless Dealers' Choice Awards, but even more so, the average age of a customer of ProMax is 8+ years, which is unheard of in our line of business. Not only that, but the internal culture of the company is also incredibly passionate and rich—which is why the average tenure of the employees at ProMax is 10+ years; something that the team is incredibly proud of.
Match that passion and expertise with a new group of minds, and executives with a reputation of innovative thinking and explosive growth in automotive. A match made in heaven, but it came with the challenge of integrating ideas, philosophies, and cultures to create something new that everyone can believe in—something that while we proudly navigated as a collective, we still recognize there is more work to be done.
Shane Born, ProMax COO and 20-year ProMax vet: "With our experience, knowledge, and track record of unmatched support to our dealers, combined with a renewed focus on cutting-edge technology—I think I speak for everyone here that the industry better watch out for ProMax in 2023 and beyond."
In the end, we truly believe we have the right team across the board to have an immediate and lasting impact on automotive, and what is most encouraging is that we feel like we are just hitting our stride.
An Impactful Rebrand:
One of the first orders of action we had as an organization was rebranding our platform to be more representative of the solution that we provide our dealers—an all-in-one tech stack that helped manage handle all their daily sales and service efforts in a single platform. With that solution in mind, we rebranded the ProMax platform to Stack powered by ProMax, an effort that included a new name, logo, and brand messaging.
Julian Johnston, ProMax VP of Innovation and Marketing: "We believed it was important to immediately reestablish ProMax's position in the market with a message that clearly pointed to our value proposition, resonated with our dealers, and that our team could rally behind. Additionally, we wanted to put the industry on notice that they were dealing with a new ProMax with a renewed energy and focus on growth."
A Big Decision:
On Day 1, the new think tank at ProMax began strategy sessions to discuss what the future of ProMax could look like. The focus of these discussions was on where the industry was today, what challenges dealers faced in a post-COVID world, and identifying the gaps in technology that made it more difficult for dealers to serve their customers. Not to mention where the industry was heading, what role software plays in that future, and where ProMax fits into all of this. Two things became immediately evident in those discussions:
One, the industry needed a shakeup, particularly in the CRM category. At a minimum, 80+% of dealerships are leveraging legacy technology to manage their customer experience and the gap between customer expectations and the actual experience continues to widen, in large part because of these legacy tools being used by dealers.
Two, ProMax was uniquely positioned to provide that shakeup, but to do so, we knew we needed to do something that so few in our industry have been willing to do: rebuild our platform from the ground up. So, against all conventional wisdom, we decided in early 2022 to push all our chips in and build an entirely new, modern platform for automotive retail.
Mike Dullea, ProMax CEO: "We knew there was a growing gap between customer expectations and the tools dealers were using to meet those expectations, particularly in the CRM space. We felt confident that ProMax can help bridge that gap, but to do so, we had to do it with a state-of-the-art platform that could be flexible in reacting to the needs of the modern customer. So, for me, building a new platform was an easy decision."
A Monumental Rebuild:
So, once the decision was made to build a new platform--the real work began. The team immediately started auditing the existing platform to make decisions on what to build into the new platform. Over the course of hundreds of team hours, no stone was left unturned as we looked at every feature (literally thousands of them) with the question: 'does this feature make the cut? if so, how can we make it even better?'
At the same time, foundational decisions were being made to make sure the infrastructure could support our goals of futureproofing automotive, including partnering with and moving our databases to Amazon Web Services (AWS) for web-based access anywhere and everywhere, leveraging Amazon's Relational Database Service (RDS) for infinite scalability, and rewriting our front-end UI in React for the ultimate design flexibility.
After the infrastructure was built, we got to work building the new platform. It was a herculean effort that pushed our team to the limit—to the tune of 4,500+ completed development tickets over the course of 24 two-week development sprints. That equates to about 175 new functionality releases every two weeks, a pace of development that would challenge any dev shop in automotive software. The dev team are rock stars and deserve every accolade that comes their way.
Greg Becker, ProMax CTO: "When we got started, we knew that this change was going to be hard, but we felt that not changing was harder. This project had its fair share of roadblocks and setbacks, but we feel confident that we have designed a platform that is poised for innovative growth and scalability—this is just the beginning for ProMax and our dealers."
An Exciting Launch:
Just over a year into the process, we finally feel like we have to a platform we can launch to our dealers. To get to this point, we pushed ourselves to the limit. It was a labor of love from every member of the ProMax team, as well as key dealers who were involved in the testing and providing our teams the feedback needed to make sure we were ready—and for that we are eternally grateful.
As we approached the new year and began our preparations for a pivotal NADA Conference, we proudly and officially launched our new platform, and we're primed and ready to show the industry what we have built.
While we are incredibly proud of what we accomplished in 2022, there is a recognition here at ProMax that we are just getting started. If 2022 was a year of rebuilding our foundation, 2023 will be about taking the industry by storm and we are overwhelmingly confident that we have everything it takes to do exactly that—and it starts at the NADA conference in January. So, if you are interested in seeing what automotive's newest platform looks like—even if you aren't ready to make a change in your dealership's tech stack—we would love to spend some time with you and get your feedback on if we are on the right track!
Here's to 2023, here's to the future of ProMax, here's to the future of automotive! **Tips Glass**