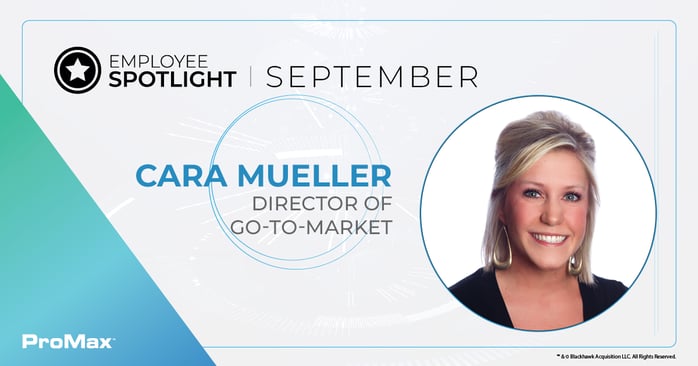 Welcome to the Employee Spotlight! Every month we focus on a ProMax team member- what they do here to help your dealership succeed AND a little about them personally as well. This month the spotlight is on Director of Go To Market Cara Mueller.

How long have you been with ProMax?
I joined the team in November 2021.
What is your title and department?
Director of Go To Market, a proud member of the Marketing Team.
Describe what you do at ProMax and how it impacts our clients.
My role has two core components: Business Readiness & Product Marketing. Re: business readiness, Go To Market focuses on aligning the teams to work towards a common goal, whatever initiative it may be at the time. This entails many aspects of traditional project management, including stakeholder communication, risk assessment/mitigation, business process management, and strategic planning with leadership.
Re: product marketing, Go To Market works with Marketing to introduce new products and concepts in the market. Together, our team transforms the technical aspects into relevant, meaningful content that builds brand credibility and attracts dealerships to learn more. While Go To Market is a "behind-the-scenes" role, it's my duty to ensure our teams have the information and resources they need to support our dealer clients and engage with prospects.

What is the most rewarding part of your job?
The level of collaboration I experience every day. I am a people-person, so building relationships, problem-solving together, and learning from others is extremely valuable and fulfilling for me. No day is the same.
What are 3 words you'd use to describe working at ProMax?
It's a fast-paced environment that challenges me to learn new skills, and exciting to be a part of something so big – building innovative technology that could transform the industry.
Where are you from?
I consider Cape Girardeau, MO my hometown, but I lived in Kansas City the past 15 years. Now I'm in St. Louis!
What do you enjoy doing outside of work?
Spending time with my family and friends, especially my niece. The outdoors – hiking, glamping, kayaking, fishing, yardwork, etc. A lot of arts & crafts – refinishing furniture, painting, sewing, jewelry making. SINGING!!
What movies do you like?
I am not a movie watcher, but Problem Child is one of my all-time faves. I stopped watching movies after the 90s. Although, I like anything with Tom Selleck (swoon).
What TV shows do you watch?
Reruns of Home Improvement, Seinfeld, The Nanny – all the good ones that still air on antenna TV.
What sports/teams do you follow?
KC CHIEFS!
If you could learn anything new, what would it be?
Woodworking! I have a few projects planned for 2023.
What 3 traits define you?
Genuine. Caring. Funny, hehe.
Who would play you in a movie about your life, and what would the title of the movie be?
I asked my friend this question and he said, "Trouble." But like a fun kind of trouble, ya know? And I'll go with Kristen Wiig.
Who is your favorite superhero, and why?
Thor, because he's hot.
What advice would you give your younger self if you could?
Oh jeez, SO MUCH. But the biggest piece of advice I'd leave my younger self is to "learn and practice mindfulness. Appreciate being in the present moment, fully participate in your everyday life. And take a deep breath!!!" Also, "Just listen to your mom. She's right. Don't fight it."
What is your favorite line from a movie?
"I thought I was your snack pack…" I don't know why I have always remembered this line from Billy Madison, but it's the only movie quote I know. I kid you not. I really don't watch movies.
Tell us something about yourself that would surprise us.
I think a lot of people would be surprised at how "handy" I am. I can do basic electrical and plumbing, easy tile jobs, build/repair furniture… I learned a ton from my parents growing up and being a single homeowner forces me to learn. The feeling of pride and independence when I do my own home repairs is incredible!
What does true leadership mean to you?
Being open-minded/flexible in your thinking and behavior, being a good listener, and leading by example, not direction.
What inspires you the most?
I know this sounds cheesy, but one (of many) things is the ability to give back to others. If I am not taking care of myself, working hard, etc. then I can't give to others. It truly gives me so much joy to make others happy, and support them in the smallest or biggest ways. Relationships are everything, and I whole-heartedly believe we can't do "life" alone. This is why I wish people would assume positive intent as the norm and be more understanding and kind towards others. I don't always nail it, but I certainly try.
What are you looking forward to over the next year?
I'm excited to see what 2023 brings. I have been working hard to build healthy routines, reflect, grow and invest my energy into the things that matter most. Understanding and sticking to my priorities has already led to some great things, so I can't wait to see what happens as momentum gains…