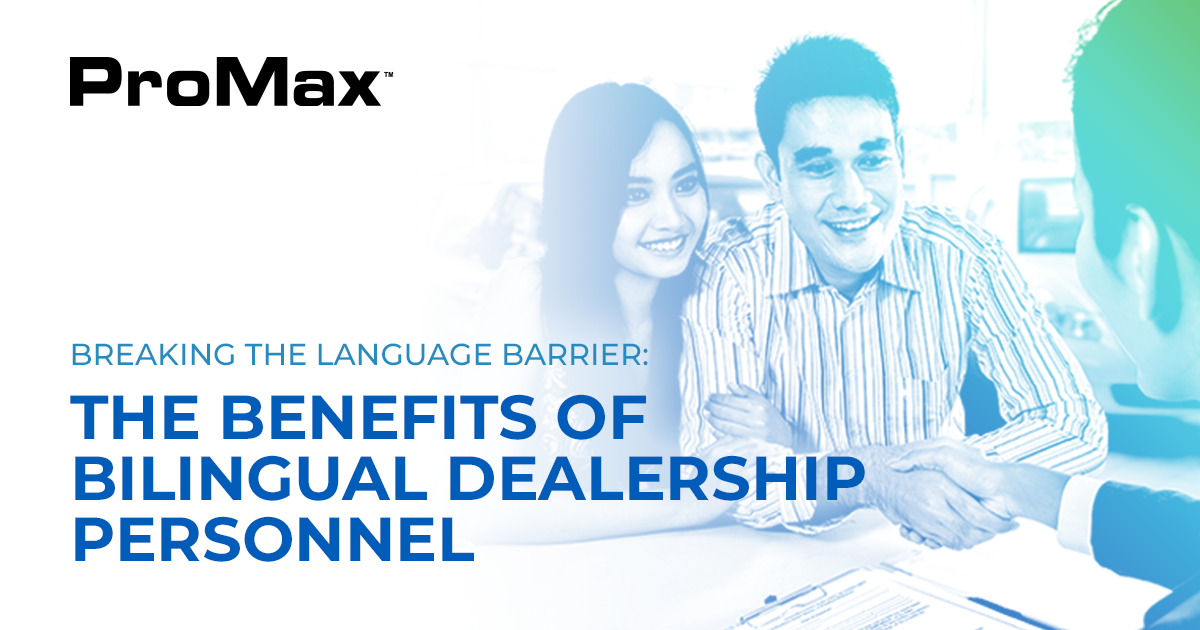 by David Lopez
People want to be understood. They want to be heard and valued. The first step to achieving this is listening and actively acknowledging what is being said. A language barrier is one of the greatest threats to not only being able to listen, but also to instilling the trust necessary in honest conversation. Immediate results will follow when a consumer and/or client not only understands what they are being sold, but trusts who is selling to them. Whether a consumer is looking to buy a car, or a client is looking to sign up with a particular vendor the difficulties are the same. Once someone feels misunderstood, the communication breakdown that follows can cause distrust, anger, and the loss of a sale. Arguably worse, it can cause the consumer to agree to something they may not want or understand. Frustrations on both sides of the deal are never conducive to a satisfying and lengthy relationship between consumer/client and dealer/vendor. If the goal is not just a sale, but a returning consumer, then why not accommodate them in one of the basics: effective communication? Recent data shows that, "Spanish is spoken by more than 559 million people globally, making Spanish the language with the second largest population of native speakers in the world (Mandarin holds the top title). In the U.S., 13 percent of the population speaks Spanish at home, earning it the title of the most common non-English language spoken. The U.S. also has the 2nd largest population of Spanish speakers in the world (Mexico has the largest)." Why would any business overlook a large percentage of the population instead of incorporating employees that allow these consumers to intelligently research, ask questions, and purchase in the same way that English-speakers do? This will not only increase sales to a population a dealership may have never reached in the past, but also increase satisfaction beyond the average consumer.
The presence of a Spanish-speaking representative is often the contrast between a long-term and positive relationship with a Spanish-speaking consumer and their referrals, or a lost sale. Ever made a joke that goes over someone's head? Imagine an entire sale process with that sentiment. The ability to joke and engage in conversation not only puts a consumer at ease, but also allows the consumer to culturally relate to their salesperson. A dealership without a Spanish speaker not only raises the communication barriers, but the cultural ones as well. The Latinx and Hispanic culture is one largely based upon respect. A consumer will sense that they are valued and respected with the presence of a fluent speaker from the beginning to end of the sales process. This will form a sense of loyalty and appreciation that can only be positive for the dealership. They will continue to engage with the dealership, not only at the sales level, but for service, parts, or even detailing. What matters is that they will continue to return to the business that instilled a sense of belonging during a stressful process.
While having a Spanish-speaker is an extremely important aspect of the process, there is more to it than that. The best approach is a Spanish-speaker in the department that the consumer is in. There is a large difference between a translator from another department relaying information between sales and the consumer, and a knowledgeable Spanish-speaking employee communicating effectively, in real-time. There can be a lot left unsaid from English to Spanish and vice-versa, or even things left out or twisted. The Spanish-speaking employee will be able to avoid the fear of miscommunication and distrust that can arise from said situation. Besides a salesperson, a dealership should be equipped to provide paperwork, online forms, and more in the language of the consumer.
Accommodating the consumer will often result in a successful sale. This will spread by word-of-mouth, social media, and positive reviews. With the increase of online sales, appointment setting, and research that is done online, having a translated webpage, app, or even Facebook post can be the difference between a potential consumer engaging with your online advertising, or moving on to one they can understand. The digital aspect of a dealership or vendor can accommodate these consumers whose purchase begins online. Some areas of the US have a greater Spanish speaking population than others, but a dealership should not think that they do not need any of the above because of the percentage of Spanish speakers in their area. It is often the case that a dealership does not have a Spanish-speaking consumer base because the consumers already know that no one can help them. The implementation of bilingual advertising will first bring those consumers to your dealership, and they will keep coming back with the presence of a Spanish-speaking rep. Furthermore, with the lack of new inventory today, the used car business is rising. Keep in mind that, "Hispanics' finances dictate pragmatism, that could mean buying used cars…" This statement was made by the CEO of Impremedia, a US Hispanic content company, who recently launched a fully Spanish digital publication for the Hispanic car-buying publication. The more Spanish-speakers a dealership can accommodate, the more they can overcome the drop in sales and inventory because of the new-car market.
As dealers know, a BDC is often the communication forefront between consumers and the dealership. My first job at ProMax was in our offsite BDC. This experience highlighted the importance of Spanish-speakers for consumers and the dealership alike. Not only were there leads submitted by Spanish-speakers daily, but I could also see how clients using our CRM, but not the BDC, could not accommodate Spanish speakers if there were none available at the dealership. The absence of a Spanish speaker equates in the loss of not just that particular sale, but the loss of other sales as well. Once potential consumers know there is no one who can effectively help them with their purchase, they will find a dealership that can. I also learned that frustrations began at the arrival of the consumer. From attempting to ask for their assigned salesperson at a busy dealership, to not being able to see more than the desired vehicle that was in the system. Basics that could have been handled by one bilingual employee. A study from 2021 showed that the second highest percentage of car-buyers were made up of those who self-identified as Hispanic. A dealership better equipped to handle these consumers will rapidly see an increase in loyal consumers.
Transitioning from the BDC to a tech/customer-service position at ProMax highlighted this issue from the vendor/CRM side. I was recently in a situation where the main contact and decision-maker for one of our clients was a Spanish-speaker. The situation was not only time-sensitive, but also best communicated via phone, not text or email. My first step was understanding the entirety of the situation and making sure I was able to effectively communicate the seriousness of what we were working through. Unfortunately, he had tried communicating with his Account Manager, but felt misunderstood and confused. I saw firsthand what occurred with ineffective communication, but also the difference in his demeanor when he was finally able to feel accepted. CRMs and vendors will be able to hear a literal sigh of relief from their clients with the use of Spanish-speaking employees when necessary. The norm is these clients being misunderstood, and dealerships who defy that will reap the benefits that come from an increase in clients, referrals, and satisfaction.
Communication breakdowns occur in many different situations, not just on the job. Imagine being misunderstood and feeling unvalued, while going through a process or conversation full of distrust. This is what can be in store for not only Spanish speakers, but all non-English speaking consumers. This can be the experience not only with their second-biggest purchase or signing up with a vendor to elevate their business, but also throughout their life. It is our responsibility, at the very least, to help them be and genuinely feel understood. Those who are often shown that their business is forgotten, or not needed, deserve more. Instead of fear and nervousness when approaching a dealership or vendor, they will feel welcome and valued as a person, not just a dollar amount. With the incorporation of Spanish speaking employees, a dealership will not only feel fulfilled by genuinely understanding and helping this often-undervalued population but will also receive a loyal consumer that reciprocates with an increase in profit through sales, service departments, and referrals.
Special thanks to Sean V. Bradley and Vaesly Vega from Dealer Synergy for their valuable insight on such an important topic.
References:
Carlier, Mathilde. "U.S. Car Buyers by Ethnicity 2021." Statista, 7 June 2022, https://www.statista.com/statistics/1267606/us-car-buyers-by-ethnicity/.
Editorial Staff - Portada Online. "Hispanic Car Buying Habits: Impremedia Launches Siempre Auto." Hispanic Car Buying Habits: Impremedia Launches Siempre Auto, 25 Sept. 2021, https://www.portada-online.com/hispanic-media/impremedia-launches-siempre-auto-betting-on-hispanic-car-buying-habits/.
Thompson, Sonia. "The U.S. Has the Second-Largest Population of Spanish Speakers-How to Equip Your Brand to Serve Them." Forbes, Forbes Magazine, 10 Dec. 2021, https://www.forbes.com/sites/soniathompson/2021/05/27/the-us-has-the-second-largest-population-of-spanish-speakers-how-to-equip-your-brand-to-serve-them/?sh=66bcd9c6793a.