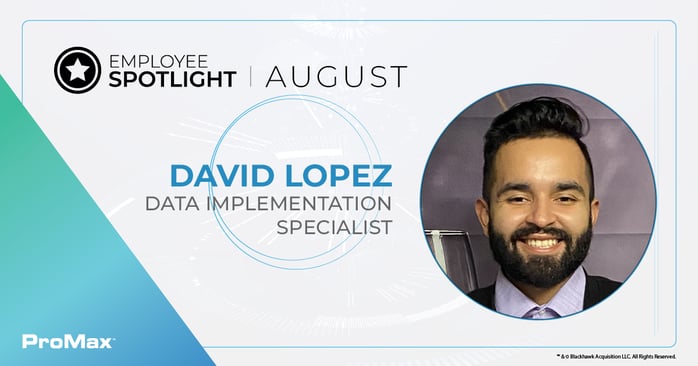 Welcome to the Employee Spotlight! Every month we focus on a ProMax team member- what they do here to help your dealership succeed AND a little about them personally as well. This month the spotlight is on Data Implementation Specialist David Lopez.


How long have you been with ProMax?

About 2 years.

What is your title and department?

Data Implementation Specialist - Lead Integrations and Call Tracking.

Describe what you do at ProMax and how it impacts our clients.

After a deal is closed, I conduct the kickoff calls for our new clients. I then set up new dealers to receive leads and use our call tracking features. I also troubleshoot any issues our current clients have with not receiving leads, receiving them incorrectly, or call tracking problems. I have begun working with OEMs and 3rd party vendors directly to help develop new and better integrations with them. This impacts our clients in a few different ways- I am not only one of their first interactions with ProMax, but I am also there for setting up and ensuring they receive the leads that they pay for from other vendors. Developing new relationships with vendors, and ensuring the OEMs we work with are happy will further enhance current relationships our clients have with them.



What is the most rewarding part of your job?

The most rewarding part of my job is that it has given me the ability to help people. Whether I am helping them on the phone, via email, or answering a coworker's questions, I get to help people reach whatever goal they have at that moment. For our dealers, this positive experience hopefully highlights ProMax, and I love being able to do that for them and for us.

What are 3 words you'd use to describe working at ProMax?

Exciting, fulfilling, and motivating.

Where are you from?

I was born in Newark, New Jersey. I moved to South Carolina when I was around 10 years old and have lived in Iowa for about 4 years now.


What do you enjoy doing outside of work?

My favorite thing to do is play Ultimate Frisbee (not frisbee golf). I also enjoy playing pool, trying new things (especially bars), and writing.

What movies do you like?

Sherlock Homes (Robert Downey Jr. version), the Rocky and Creed movies, and anything Quentin Tarantino.

What TV shows do you watch?

The Office, New Girl, Schitt's Creek, and House M.D. are my all-time favorites.

What sports/teams do you follow?

The Yankees. I also follow ultimate frisbee, and I enjoy watching boxing.

If you could learn anything new, what would it be?

To speak Italian.

What 3 traits define you?

"Three words: hardworking, alpha male, jackhammer, merciless, insatiable." Sorry I had to throw some Dwight Schrute in there. I would actually say humble, resilient, and curious.

Who would play you in a movie about your life, and what would the title of the movie be?

Robert Downey Jr. stars in Dreams of a Dropout

At what age did you become an adult, and how did you know it happened?

I think it happened around 20 years old, when I lived fully on my own for the first time, and 12 hours from my parents. I had to cook to survive, so thankfully I didn't end up poisoning myself. Double thankfully, I now live close to my parents (shoutout to mom's cooking).

Who is your favorite superhero, and why?

Iron Man, because as you can see, I am a fan of Robert Downey Jr., and I am very sarcastic as well.

What advice would you give your younger self if you could?

Don't procrastinate and believe in yourself no matter what!

What is your favorite line from a movie?
"Well, I could be wrong, but I believe, uh, diversity is an old, old wooden ship that was used during the Civil War era." -Ron Burgundy, Anchorman

What is your favorite color?
Lavender and/or Yankees blue.

What does true leadership mean to you?

True leadership is not only being in a position of power but leading by example. Being a true leader means you are capable of leading others, without having to point out that you are in charge. A true leader is often looked up to and looked at for guidance, but they are open to others' suggestions, and have no problem admitting when they are wrong.

What inspires you the most?

My dad. He grew up in El Salvador, in a very poor region, with dirt floors. He came to this country when he was 17 and received his GED here. He has worked in factories and warehouse since then, learning as much as he can. He has been attending Scott Community College while in Iowa and is now on the verge of getting his associate degree, and has been promoted to a managerial position at his current job. He is the hardest working, most selfless, self-motivated person I have ever known, and I am very lucky yo have him as such a close example to learn from and emulate.

What are you looking forward to most this year?

Three things come to mind. 1) Seeing my family in NJ and SC again during the holidays. 2) Continuing to learn and grow within ProMax. 3) The Yankees winning the World Series.

Anything else you'd like to add?

I would like to thank the "vets" of ProMax for creating an environment that I love to be a part of and want to continue to develop in. The company's strive to be great at helping their clients, and to help their clients be great, is a mission I want to be a part of because our clients' success is our success. I hope to continue to be a part of this growth and learn as much as I can from the incredible leaders that we have here.