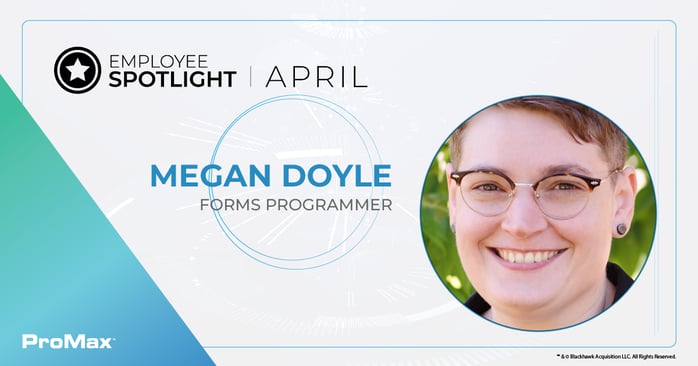 Welcome to the Employee Spotlight! Every month we focus on a ProMax team member- what they do here to help your dealership succeed AND a little about them personally as well. This month the spotlight is on Forms Programmer Megan Doyle.
How long have you been with ProMax?
14 Years this October.
What is your title and department?
I am a Forms Programmer in the Forms Department.
Describe what you do at ProMax and how it impacts our clients.
When you print your deal forms, I make that happen. Contracts, lease agreements, purchase agreements, etc. I map the information in ProMax to the applicable fields on forms.
What is the most rewarding part of your job?
Making our clients' lives a bit easier. There's nothing that beats a call that starts with an issue and ends with a resolution and very happy parties.
What do you love most about ProMax?
I know a lot of people say this but it's the truth. I really love the people I work with. Most of them I've worked with since I started, or almost that long. From playing jokes and teasing each other to heartfelt conversations, these guys are the best. They're extended family.
What do you enjoy doing outside of work?
The normal stuff: reading, cooking, baking, playing cards and board games, watching movies. I love hanging out with friends, going bowling, or to the local adult arcade.
What movies do you like?
Generally speaking, I love a good horror, action, or comedy. One of my all-time favorite action movies is Jurassic Park. My 9th birthday party was JP themed, so it holds a special place in my heart. Favorite comedy is probably Drop Dead Gorgeous. Is it obvious yet that I'm a product of the 90s?
What sports/teams do you follow?
NBA, NCAA, and NFL. I'm a big Kansas City Chiefs fan but that's really the only specific team I follow.
If you could learn anything new, what would it be?
Two things. I'd love to play piano and read the music. I'd also love to learn Spanish. I took French in high school and college but naturally haven't used it much.
At what age did you become an adult, and how did you know it happened?
Oh man. I've been thinking about this one. The only thing really coming to mind is when I was probably 24-25 and I had to make the decision to put one of my cats down. We had to do that when I was growing up, but this was the first time that I had to make that call myself. Talk about hard. That's still one of the hardest things I've had to do to date.

What advice would you give your younger self if you could?
You are so much better than you realize. Don't listen to bullies and be the best You that you can be. Also, BE PATIENT; things will eventually fall into place.
What does true leadership mean to you?
Respect. Dependability. Positivity. Encourement. To be a successful leader you have to be willing to lead by example. It's being at the front lines and taking your troops into battle, not sitting off to the side and watching them go. True leadership makes you want to be and do better.
Tell us something about yourself that would surprise us.
I really enjoy learning fast rap songs and showing off my skillz. There's such a feeling of accomplishment once you've got it down. I also am a walking encyclopedia on serial killers.
What is your favorite line from a movie?
"Life, uh, uh, uh finds a way." – Jurassic Park
"This is my daughter, Dottie. This is my other daughter, Dottie's sister." – A League of Their Own
"Surely you can't be serious... I am serious; and don't call me Shirley" - Airplane!
What are you looking forward to most this year?
Family vacation in August! It'll be my second time seeing the ocean in person. I'm excited to go snorkeling and I really want to pet all the sea creatures.