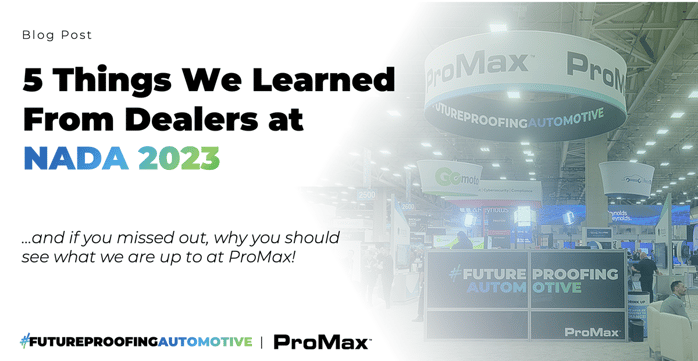 Going into the recent NADA 2023 conference, we at ProMax knew that the show was a critical moment for the company- we were launching our all-new platform, Stack. We were eager to receive feedback from the industry about our new offering--something we spent all of 2022 building from the ground up. The team left the show feeling elated about the impression Stack made on dealers and the industry as a whole.
Here are five key things we learned from conversations with dealers and industry partners:
There is an appetite for change in the CRM category

, and ProMax is the one to shake it up. Dealers are tired of using legacy platforms for their communication strategies and were pleased to see a modern alternative, because up until this point they felt they didn't have another choice. Stack was a breath of fresh air for the dealers that came by the booth and saw it in action.


As inventory levels start to recover, there is a resurgence of the need for data mining to help sell vehicles. The dealers we spoke to agreed that data mining is a powerful tool, but it needs to be deeply embedded in the CRM for it to be effective. Everyone who saw Stack appreciated the fact that we placed so much effort on combining the best of both worlds into one platform.


Stack's integration of customer credit directly into the platform is essential. Integrated credit not only provides dealers with data across the entire buyer journey, but also peace of mind when it comes to compliance and data privacy. With the FTC ruling looming over the industry, we made safeguarding dealers a top priority, and dealers were impressed with our ability to pull, store, and most importantly protect credit data all in one place.


Stack empowers salespeople by enabling them to mine their own data and create their own follow-up tasks. This creates a culture of entrepreneurship where salespeople have the tools to run their sales efforts like a business within the business- something that, as it turns out, dealers have been looking for. Dealers were thrilled about the prospect of fostering a controlled environment of intrapreneurship.


Dealers miss the days of all-in-one sales and integrated marketing solutions. In the past, dealerships had multiple options for fully integrated platforms, but over time those platforms have disappeared. Once dealers saw that we were the only remaining all-in-one tech, there was an immediate recognition of how valuable it is to have all their needs in one place, integrated seamlessly.
Our launch of Stack at the NADA show was a huge success, and the team left the show excited about 2023 and beyond. Dealers and industry partners were impressed with Stack's modern approach to CRM, Data Mining, integrated Credit, Desking, and more.
Our mission of futureproofing automotive starts with shaking up the CRM category and providing dealers with a much-needed alternative to legacy platforms. Our biggest takeaway from NADA 2023, based on the overwhelmingly positive responses that Stack got from dealers: we are definitely on the right track!
CLICK HERE to learn more about
Stack powered by ProMax!