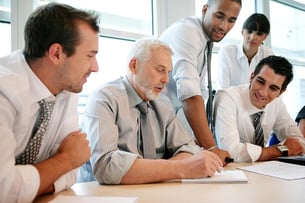 Owners might be tempted to hum the lyrics to "Easy Street" after buying a software platform for their automotive dealerships.

Think again. People sell cars, not software.

"Easy Street," an upbeat, little-known ditty, became a Billboard sensation after it was featured in The Walking Dead television series last fall.

In the show, the song was played over and over again to torment a prisoner in a dark cell, and automotive dealers should not lose sight of that devious irony.

I just recently got back from an automotive trade show in Las Vegas and recognized a disturbing trend among the dealers I spoke with. Most seem to think that once they sign the deal for a new automotive crm, the cars will literally sell themselves.


Granted, most platforms will save time and improve organization and efficiency, but the wrong software company with bad support can make matters even worse! Dealers still need to stick to a proven process to sell vehicles and use the software to enhance that process, not substitute for it.

Get a demo of a dealer crm solution with great support and training.

For 20 years I supervised a total of 54 salesmen and 18 managers in three different locations. My dealership managed 4,000 leads a month and averaged $4,300 in revenue per vehicle.

At each location, my employees worked together as a team to understand and execute my process. I have broken that process down into three important components.


Leadership
First and foremost, owners must lead by example. It is critical to know everything and everybody from one corner of your dealership to the next at all times.

Owners must be physically fit, eat sensibly, and get the right amount of sleep each night. It is also critical to maintain a stable marriage and household. That way, owners are not distracted at work. That laser focus will be needed to up the monthly sales tally to 400 units.


Knowledge
When I built my dealership process, I broke down every single aspect of a car deal and reassembled it with my crm dealer software platform entwined. I knew my process better than anybody. I tested it, refined it, and then tested it some more until I got the results I wanted.

Admittedly, I faced challenges for quite a few months. Some salesmen tried to push the envelope and take shortcuts. They didn't last long and were replaced by those that followed the rules. This pruning also bolstered employees who embraced the process and were trying to do the right thing. Eventually, all the sales staff got it, and the dealership ran as smooth as silk.


Training
Training should be enforced from the top down on a daily basis, either one on one or in groups. Quality content needs to be established in all areas – meet and greet, telephone and follow-up skills, closing techniques, inventory acquisition, and software knowledge, to name a few. The right autmotive crm platform, when used properly, connects all of these functions and allows owners to identify damaging issues in their dealership and get them corrected instantly.



Once these three components are put in place, then an owner can sing with confidence, "We're on easy street, and it feels so sweet."