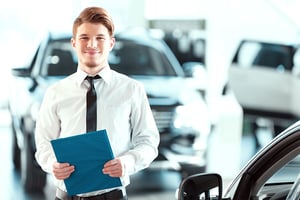 Several years ago, I was riding my motorcycle, and a pickup truck pulled up behind me. I was already driving faster than the posted limit, but it was still too slow for the pickup driver. After several false starts, the driver eventually roared past me on a corner.
Less than 50 yards later, a large buck ran out into the road and collided with the speeding truck. If I had not slowed down to let the other driver pass me, I would have hit the buck instead!
Do you focus on instant or delayed gratification?
Just like the driver of the pickup truck, we are presented with opportunities and challenges on a daily basis that often allow two contrasting reactions. We either get an instant feeling of accomplishment, or we end up delaying the gratification. But with that delay often comes a more rewarding solution. Unfortunately, we have become a society that thrives in the moment..
Case in point. I find it interesting to read accounts of the "overnight success" stories of companies. They follow a predictable pattern. First comes the big splash on the cover of a financial magazine or the business section of big-city newspaper. Within a few months or years, the companies are sold for an amazing amount of money.
Overnight success is a myth.
What is rarely mentioned are the years those companies spent in relative obscurity, making mistakes, experiencing failure and losing money. Today, hard-work stories don't sell as well as the overnight sensations, so with artistic license, the story is told with extravagance.
But there was a time when that hard work was more appreciated.
Take a cue from Thomas Edison.
Thomas Edison, recognized as the inventor behind the first viable electric light bulb, told Harper's Monthly Magazine in 1890 that his success was fueled by thousands of failed experiments.
"I speak without exaggeration when I say that I have constructed three thousand different theories in connection with the electric light, each one of them reasonable and apparently to be true. Yet only in two cases did my experiments prove the truth of my theory."
In today's world of instant gratification, automobile dealers are always trying to sell the customers who are in front of us – right now. Those customer are our bread and butter, and we need to close those sales no doubt.
Remember that fortune is in the follow up.
Yet, we should never forget about following up with a customer who took the time to submit an inquiry on your dealer website or the customer who left without buying a vehicle. Those delayed sales are the cream because they can make your month or year the best one ever.
Look at your dealership software, the CRM. You need it optimized for the long game.
Do you have the right people following up to get the co-signer on a car loan? Is someone locating a vehicle you don't have on the lot? Is someone calling a customer back into the showroom to look at another vehicle? Are you re-hashing the terms of customer loan with your bank?
Make the long game part of your DNA.
You need to hold your staff accountable for all of these processes. When your automotive CRM is set up and worked every single day, you will uncover those extra sales and referrals. Think about what an impact a 10 percent increase in sales would mean to your bottom line, your profit, your commission check, and even the morale of your sales team.
Now double that to 20 percent!
Don't let a long-term deal walk because you don't want to deal with the hassles of closing it. As you develop your team and grow your dealership, define your long game, and like Thomas Edison, don't give up until you have discovered your solution.
Hopefully, it won't take three thousand attempts!