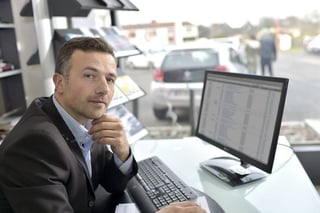 In a press conference before the AFC title game in 2015, New England Patriots Football Coach Bill Belichick said that preparing for the game was important.
But preparations can only take you so far once the game starts.
Belichick paraphrased the great Gen. Dwight Eisenhower when he said that "preparation is everything until the battle starts, and then it doesn't mean anything," according to a USA Today article.
"Then you react to what happens in the game. In his case, what happens in the battle."
A man of his word, Belichick's Patriots erased a 25-point deficit to beat the Atlanta Falcons in the greatest Super Bowl comeback ever last February, 34-28.
Automotive dealers considering a switch in their dealership's CRM can surely take a page from the coach's playbook.
Today, changing CRM software is the second largest undertaking for a dealership, just behind changing a dealer management system (DMS), and can be the second largest expense in a dealership.
Making such a huge switch will never be a smooth ride. Obstacles will present themselves at every turn. But a failure to plan for that transition will mean a dealership is not taking advantage of the software's full capabilities.
So what does this meticulous planning look like?
Here are four steps guaranteed to have you using your automotive CRM's full functionality before the next NFL football season rolls around in September.
1. Use initial CRM training at the dealership to lay a solid foundation
When dealers change CRM software, a trainer comes to the dealership for a specified period of time negotiated at the time of sale. When the trainer leaves, training has ended – but in no way is the dealership fully educated with all of the CRM's functionality.
Training is just the foundation for future education.
2. Mandate additional off-site education for key staff members
The best way to build on that implementation training and truly get key members of your staff educated is to get them out of the dealership.
If the automotive CRM company you are using doesn't offer continuing education at its corporate headquarters, I wouldn't use them. Getting key management out of the dealership avoids the pitfalls of training in the store and allows them to dive deeper into the software.
3. Designate trusted staff as in-house trainers
If it were my dealership, I would have two people in charge of becoming experts with the software that has my entire customer base.
For obvious reasons!
However, if you choose only one, you are still on a much better path to success. The ideal candidates are people in positions with low turnover, are extremely organized with some technical background, and have a history of accomplishing difficult tasks. They will be the administrators of the most expensive, important piece of your sales process.
Don't take this position lightly, or staff will be walking out the door with your customer base. The administrator's duty is to become an expert with your dealership's software and constantly staying educated with new functionality, training new staff, and troubleshoot problems as they arise.
4. Institute ongoing training for existing and new staff
If the initial training is the beginning and end of your staff training, your CRM switchover will inevitably fail.
Once you have a plan to keep your administrators educated, it is important to make a plan for the rest of your staff. This is the job of the administrator; there should be continuing education for existing and new staff on a monthly basis.
The software company you choose should be able to help with some of this, such as basic implementation videos for new employees and live one-on-one online training classes or onsite visits.
Most automotive CRM software companies will also offer discounts on packages for continuing education at the time of sale on a monthly, quarterly or yearly basis.
However, if you feel continuing education falls entirely on the software company, you will be like more than 80 percent of the dealerships today – paying 100% of the bill and using only 10-20% of the software.
For all you die-hard Atlanta Falcon fans who had to grit your teeth through this article, I'll leave you instead with the advice of Benjamin Franklin, a Founding Father who offered a fount of sage business advice.
"If you fail to plan, you plan to fail."