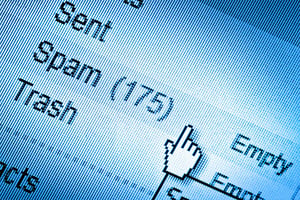 Are your business emails ending up in a customer's junk folder? Worse yet, are customers reporting your emails as spam?
Email rules and filters redirect spam, so customers only see messages they actually want to see. These rules and filters, although not published, are constantly adjusted to keep up with an ever-changing environment.
No business wants to be labeled as a spammer, so you need to follow these seven email guidelines to protect your reputation, keep a strong, positive, and mutually beneficial relationship with your customer base – and ensure your emails end up in the right inbox every time.
DO NOT USE DECEPTIVE SUBJECT LINES
Tricking customers into opening your email may get you reported as a spammer, so the subject line should match the overall message of the email. This will also help build trust with your customers.
SEND MESSAGES TO THE RIGHT PEOPLE
When building your customer database, check with your customers before you start email communications with them. If customers are not expecting a message from you or are unsure of how you got their contact information, your relationship could get off on the wrong foot.
Never purchase email lists!
You only want to email customers that you have direct contact with. When you purchase email lists, these lists may include honeypot email addresses that are used as bait to catch spammers. Sending an email to a honeypot address will instantly cause you to be blacklisted.
In addition, honor the wishes of those customers who do not want to receive your email blasts any longer. Your CRM (Customer Relationship Management) tool should have the ability to exclude such customers who opt out. Likewise, if customers respond to your opt-out message, your CRM should be able to automatically update those customer records without taking any additional time out of your day.
Ensuring good data collection processes in your automotive CRM can help significantly as well. Some CRMs will block the ability to move screens until an email address is entered for a customer.
Similarly, website companies can offer squeeze pages and credit applications that require email addresses in order to be completed or to advance to the next screen. This is great, in theory, because it will help you acquire a better percentage of email addresses for your customers.
However, actions like this will also encourage fake email addresses to be added. For example, a salesperson may start adding an email address of none@none.com when a customer doesn't want to share that information with them so that they can advance to the next screen.
When choosing which customers to send a bulk email communication, use the most recent information. Thirty percent of people change their email address every year. So if you are using old information for your blasts, you may be sending messages to email addresses that are invalid or not longer exist.
Keep in mind that emails that are not properly targeting your customers are not only ineffective to your end goal but also will reflect negatively on your brand.
CHOOSE YOUR WORDS WISELY
Avoid common phishing triggers. Some examples of phrases and words to avoid include the following:
As seen on

Buy

Buy direct

Compete for your business

Subject to credit

Save big money

Free

Cash

Cents on the dollar

Lowest price

No cost

Loans

Acceptance

Dear ____

Subscribe

Click

This isn't spam

Click here

No catch

Terms and conditions

Prizes

The best rates

Stuff on sale

The best rates
As mentioned earlier, these types of phishing lists are constantly evolving and changing, so change your templates at least once a month to have them emulate a conversational email that you would have manually sent out – not one that is automatically generated.
BE MINDFUL OF YOUR PRESENTATION
Do not send emails with all capital letters. In addition, do not use different fonts, text sizes, or text colors. Also, a template or email that is only images should not be sent. Templates with too many images or links could shoot up warning signs for a spam filter as well.
USE A PAID EMAIL SERVICE THAT ALLOWS FOR BULK MAILING
Avoid using free email accounts because In the fine print are a host of rules, regulations, and restrictions.
In a nutshell, when you sign up for a free email account, you are agreeing to use it for personal use, not marketing. When you go against those terms and conditions, you will be blocked and have trouble with your deliverability.
Although business accounts are generally paid accounts, some are not created for the intent of mass email marketing. Make sure you have a bulk email service that allows for that kind of interaction and update the domain that you are using to include the appropriate SPF records.
DO NOT INCLUDE ATTACHMENTS IN BULK MAILINGS
This is a common way for viruses to be distributed and should not be included in any marketing pieces.
SEND YOUR CAMPAIGNS FROM ACTIVE EMAIL ACCOUNTS
Spam filters compare incoming and outgoing traffic to help identify messages that may be spam.
Email marketing is really an art, not a checklist. No specific recipe for success exists, due to all the different factors that can influence your results and deliverability. However, if you keep these guidelines in mind and adjust for your market and customer experience, your emails will find the right inbox time and again.